Standard plates are issued to all vehicle owners unless they request other plates. Montana law requires the issuance of new plates every five years.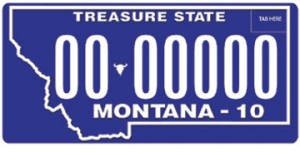 The most current Montana plate was issued beginning in January 2010. Each design element echoes Montana's classic license plates. The white Montana outline on a solid blue background harkens back to the plates of the '70s, and the "Treasure State" slogan along the top was used through the '50s. The clear-cut, white lettering for the state name and plate number is also a classic look, and makes it easier to read the plate from a distance. The "10" after Montana is for the issue year of the design, a feature that was used through the '80s. The "dot" between the county prefix and the plate number is the familiar silhouette of a bison skull.
Plate Choice and Permanent Registration – Vehicle owners who have permanently registered a light vehicle or trailer may continue to use the plates issued to them at the time they registered their vehicle. Vehicle owners who wish to use the 2010-issue plate may request the new plates upon surrender of their old plates displaying the permanent tab and payment of one or more of the following:
$10.30 new issue fee
$10.30 replacement plate fee (new number)
$15.45 duplicate plate fee (same number and type of plate)
$10.30 duplicate permanent tab fee
Plates from 1989, 1991, 2000, and 2006 are available as an alternative to the blue 2010 plate. The same standard-issue plate fees, options, and conditions apply to the 1991, 2000, and 2006 plates, but the 1989 design is numbered like a sponsored plate and is not available in military or amateur radio options.